Oscar Wilde (1854-1900)
Oscar Fingal O'Flahertie Wills Wilde was born on the 16th of October, 1854 in Dublin, Ireland. His father was a successful surgeon and his mother a writer. Wilde was educated at Portora Royal School, Enniskillen, County Fermanagh, Trinity College, Dublin and Magdalen College, Oxford. During his time at Oxford, he gained a reputation as a dandy and became involved in the aesthetic movement. Upon graduation, he moved to London to pursue a literary career.
Whilst in London Wilde quickly established himself on the social and artistic circuits by virtue of his wit and flamboyant character. He worked as an art reviewer and lectured in the United States, Canada, Britain and Ireland. He also lived for a brief period in Paris.
A first volume of his poetry was published in 1881. He contributed to publications such as the 'Pall Mall Gazette', wrote fairy stories and published a novel titled 'The Picture of Dorian Gray'. However, he is perhaps best known for his plays, which include 'Lady Windermere's Fan', 'An Ideal Husband', 'The Importance of Being Earnest' and 'Salomé'
In 1884 Wilde married Constance Lloyd and they had two sons. In 1891 he became involved in an affair, which was eventually to lead to his downfall, with Lord Alfred Douglas, nicknamed 'Bosie' and son of the Marquis of Queensberry, a boxing enthusiast who lent his name to the rules of the sport. In April 1895, Wilde sued the Marquis of Queensberry for libel as the latter, unhappy at the relationship between Wilde and his son, had accused him of homosexuality. Wilde's case proved unsuccessful and he was himself arrested, based on evidence heard during his libel proceedings, and tried for gross indecency. He was found guilty and sentenced to two years hard labour for the crime of sodomy. During his time in prison he wrote 'De Profundis', a monologue addressed to Lord Alfred Douglas, and his health deteriorated considerably.
Upon his release in 1897, he wrote one of his most famous poems, "The Ballad of Reading Gaol", criticising the inhumane conditions of prison. He moved to Berneval, near Dieppe and then to Paris, where he spent the rest of his days living in cheap hotels. Wilde never returned to Britain or Ireland. Whilst in Paris he died, penniless, of cerebral meningitis on November 30, 1900. It is said, that on his death bed he became a Roman Catholic. Oscar Wilde is buried in the Père Lachaise Cemetery in Paris.
Some of Oscar Wilde's quotes:
There is only one thing in life worse than being talked about, and that is not being talked about.
A little sincerity is a dangerous thing, and a great deal of it is absolutely fatal.
Always forgive your enemies; nothing annoys them so much.
America had often been discovered before Columbus, but it had always been hushed up.
America is the only country that went from barbarism to decadence without civilization in between.
Anyone who lives within their means suffers from a lack of imagination.
Biography lends to death a new terror.
I always like to know everything about my new friends, and nothing about my old ones.
I think that God in creating Man somewhat overestimated his ability.
Anybody can write a three-volume novel. It merely requires a complete ignorance of both life and literature.
The only way to get rid of a temptation is to yield to it.
Relations are simply a tedious pack of people, who haven't got the remotest knowledge of how to live, nor the smallest instinct about when to die.
Either that wallpaper goes, or I do (Wilde's last words, as he lay dying in a cheap Parisian hotel).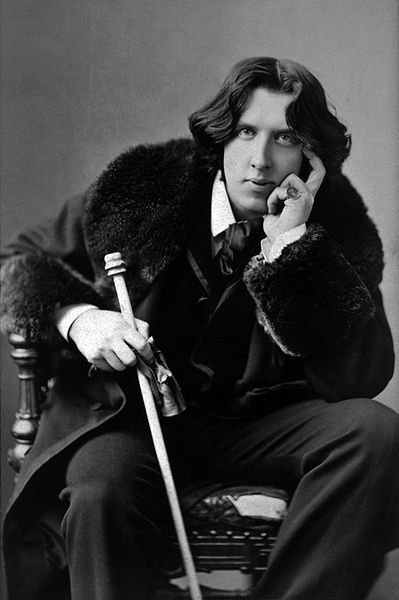 Photo of Oscar Wilde from Wikicommons.